Vascular Surgery: A Comprehensive Review of Vascular and Endovascular Surgery – New 8th Edition
By Wesley Moore, MD

Master everything you need to know for certification, recertification, and practice with Vascular and Endovascular Surgery: A Comprehensive Review, 8th Edition. From foundational concepts to the latest developments in the field, Dr. Wesley Moore and a team of international experts prepare you to succeed, using an easy-to-read, user-friendly format and hundreds of review questions to promote efficient and effective study.
A Handbook of Vascular Disease Management
By Wesley S. Moore, Juan Carlos Jimenez – World Scientific Pub Co Inc (2011)
Treatment of vascular disease has progressed and evolved rather quickly in the last 5–10 years with current treatments improving and changing rapidly. This handbook serves to educate medical students and surgery residents regarding the most up-to-date treatments for arterial, venous and lymphatic disease. Endovascular management of these disorders has emerged rapidly and the most current techniques will be covered in detail.
Endovascular Surgery, 4th Edition
Expert Consult – Online and Print, with Video
By Wesley S. Moore, MD
In the 4th edition of Endovascular Surgery, Drs. Wesley S. Moore, Samuel S. Ahn, and a host of experts guide you through the latest developments in this innovative field. New procedures and special features, such as key points and case reviews, help illustrate effective patient care, and new topics such as endoscopic management of aneurismal disease and traumatic injuries review with you the latest endovascular surgical techniques. Full-text online access at www.expertconsult.com allows you to rapidly search this reference anytime, anywhere.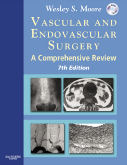 Vascular and Endovascular Surgery, 7th Edition
By Wesley S. Moore, MD

This indispensable certification and recertification preparation source presents a comprehensive and up-to-date review of vascular surgery and a superb refresher on the state of today's practice. International experts cover every aspect of the fieldfrom the basics to the latest developmentsin an easy-to-read, user-friendly format. Every chapter offers a complete summary of a key topic in vascular surgery, authored by prominent specialists with particular expertise in that area. And, numerous review questions at the end of each chapter help you evaluate your mastery of the material.
Table of Contents
9781416001836.pdf
Endovascular Surgery
By Wesley S. Moore, MD

by Wesley S. Moore MD and Samuel S. Ahn MD (Hardcover – Sept. 17, 2001) The new, third edition of the benchmark reference of endovascular surgery has been extensively revised and updated to reflect the recent, rapid changes in this growing field. Numerous new authors and extensive revisions ensure that this excellent reference remains the most up-to-date, practical resource on endovascular surgery available. Each chapter has been substantially revised, including traditional topics such as balloon angioplasty, stents, guidewires and catheters, and arterial access.
Surgery for Cerebrovascular Disease
By Wesley S. Moore, MD

This New Edition provides an integrated scientific basis for addressing the issues of stroke prevention and management in patients with cerebrovascular diseases. The 2nd Edition features a review of surgical management, including technical aspects of, indications for, and alternatives to surgery as well as complications and their prevention.
Lower Extremity Amputation
By Wesley S. Moore, MD
The experience with 142 below-knee amputations for vascular occlusive disease and/or diabetes mellitus in 133 patients has been reviewed. The program utilized Xenon 133 skin bloodflow measurement for the selection of amputation level, emphasized the use of the long posterior skin flap as an important part of surgical technique, and employed immediate postoperative prosthesis with accelerated rehabilitation for postoperative management. The results of this program yielded a 0% postoperative mortality, 89% amputation healing, and 100% prosthesis rehabilitation of all unilateral below-knee amputees, and 93% rehabilitation of all bilateral below-knee amputees.
Some folks think that college students should be bought to attend courses and write the essay with
https://essaysape.com
. There are various points you should be mindful when joining the GMAT coaching. Some students choose to research alone. Take help of varied coaching courses.
If you're an international student, you might additionally wish to know that a great TOEFL evaluation may cancel a poor verbal score. The aforementioned questions can help you prepare for your own TOEFL iBT examination. The GMAT digital test has benefits for example it's simple to publish composition. Keep on reading for 4 easy tips for score nicely on your own TOEFL check.
However, they'll have practice exams to assist the student find where they're regarding the test. Students may choose which of the examinations they would like to just take, relative to their advantages and necessary. The amazing gift of the take-home exam is you could have some flexibility and much more moment than for a typical exam.